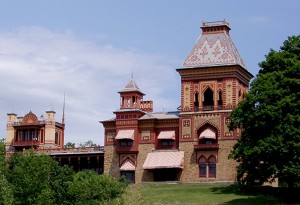 Join me and Dr. Philip Zimmerman this October on a tour of the stunning mansions of the Hudson River Valley in upstate New York, which will be particularly beautiful in the fall with its trees in a blaze of colorful glory. I hope you can join me for a tour of the region's famous and historic mansions – including the stunning Olana, home of painter Frederick Edwin Church.
I'm happy to report that the Los Angeles Times  has written about this amazing tour and has an incredible slide show to go with the piece.
My tour partner, noted American furniture expert and museum consultant Dr. Philip Zimmerman, and I will lead you on a five-day journey of jaw-dropping mansions and give you access to some homes not usually open to the public. We had originally planned to lead this tour in June, but fall will actually be even more beautiful.
We'll begin at the famous Waldorf Astoria Hotel in New York City on Oct. 6 and depart the following day by private shuttle to the picturesque Hudson River Valley.
Over the next few days, we'll take you inside several mansions, built in the 19th century in a range of styles including Classical Revival, Gothic Revival and Victorian. And we'll stay in historic inns throughout the valley.
Included on the itinerary, aside from Olana, is Lyndhurst, the magnificent Gothic Revival home to New York Mayor William Paulding and later to railroad magnate Jay Gould and is a National Trust Historic Site; Locust Lawn, built in 1814 for Colonel Josiah Hasbrouck and now a museum and extraordinary time capsule; and Boscobel, a premier example of Federal Style architecture with outstanding examples of Federal period furniture.
Stops will be made in Sleepy Hollow, West Point and other historical places.
The cost of the tour is $2,050 for a private room and $1,750 for a shared room, which includes ground transportation, lodging and some meals, as well as entrance into all the homes and museums and speakers' honorariums. For information and registration, please contact Eleanor Schrader Schapa at eschapa@adelphia.net.